Audio Update Nearly There
Posted On 3rd October, 2013
The next update will be out within about a week.  The game will actually have sound!  You can follow the progress of our audio designer, Kole Hicks, on his blog:http://kolemusician.com/blog/
After the next update the game is going to go up in price again, to $20.  So if you are on the fence buy now before it goes up!
I've also spent a bit of time recruiting, looking for the finest artists in the land.  I'm still conducting interviews for a 3D environment artist, but we now have a new concept artist, Sergey Musin.  He will work on designing the new world map and biomes, here's his first days work: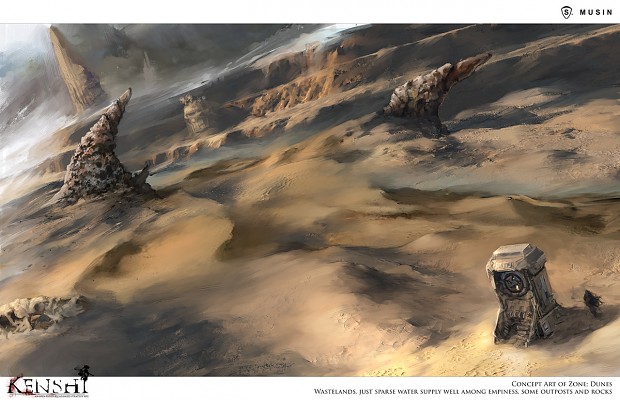 Sergey will design them, 3D dude will try to replicate them in-game (backed up by our 3D freelance team), and Sam will improve the lighting and graphics code to allow it.  That's the plan anyway, all resulting in a huge interesting world map full of adventure and stuff.
Sam is now working on character code, to boost the frame-rate and enable female characters.
Kole is working on more sound effects, at the moment we just have footsteps and combat sounds.
I'm still deciding what feature to do next.  Maybe bandit raids and kidnapping.  Maybe ranged combat.
Upcoming release: 0.50.0
Audio! Sound! Music! More sound effects will be added in future updates.
Armour crafting
Overhaul to armour and stats.
11 new hats and helmets.
New game start-off: "Rock Bottom"