COMMUNITY UPDATE #40: Gates! Environment shots! Discord!
Posted On 23rd February, 2021

Hey everyone, happy new year to you all! Since the last update we've had a Christmas party, a Christmas break, a new year and a new national lockdown in the UK, so we're all working from home again due to that pesky old C-word that we'd rather not mention. Regardless of being locked down, spirits are up and good progress is being made with Kenshi 2. Check it oooot:
The Official Kenshi Discord is here
We have launched an official Kenshi Discord server. We're not looking to replace the community Discord in the slightest, and we have the utmost respect for its moderators and participants, thank you for being part of something very special! Instead, we'd like to create something complimentary: a place for mini updates from us and somewhere where you can quickly and easily have a direct line to Lo-Fi Games (though we do have a sequel to a certain game to make so forgive us if we're not always too quick to respond).
We're very keen to hear from you about what you'd like to see the Official Kenshi Discord look like, so do please jump in and let us know.
Giveaways! Ask the devs! Competitions!
From time to time we'll be hosting Steam key giveaways and competitions where we'll be asking the community to take part by sending questions for the devs and posting mods and screenshots. Keep an eye out for info on these in the Discord server.
An "ask the devs" channel has been added from the off where we'll pick our favourite questions from the fans to answer on a monthly basis.
A smidgin of Kenshi 2 content
Environmentalism
From Environment Artist Oliver Hatton: "At the moment we're putting together two adjoining biomes so we can get to see all the amazing buildings and characters in situ, doing their thing. This biome blending will also help us identify any problems that are bound to arise, things like town sizes, over-budget texture limits and so on.
The voxel terrain can be fun to work on, with overhangs and caves being possible and re-editing areas much more hands-on than with elevation maps."
And now towns and settlements are beginning to emerge on the map, we should begin to get a much clearer view of the world. It'll be like our own little working death valley where we can test out a lot of the pain and suffering to come."
Gates
Look, it's a gate! Here's a few words from Concept Artist Christopher Schlesag on how the design of the gate came to be:
"The design of the gate was mostly influenced by the architecture of the main faction, which was already established. It is visually very sturdy and has simple geometry. For these defensive walls I wanted to incorporate more metal in comparison to the civilian buildings, which gives an even more militaristic feel.
These are the highest and thickest walls you will encounter in the game. We wanted the walls to be customizable to an extent, so they will consist of optional place-able modules like bastions, towers, and anti-climb extensions that will give advantages in several areas. For example, placing a tower on your wall will not only provide cover from ranged attacks and protect from environmental effects, but also increase the number of turrets you can place on this part of the wall. How much extensions the walls and bastions of a town have will also be a great indicator for how dangerous the surrounding lands are. We are also working on resolving placement-issues the walls in Kenshi 1 had."
Some, er, mishaps along the way
We also thought you might like to see this happy little accident tentatively titled "I'm just going to spin my arms in the air as I run and if you get hit, it's your own fault!" (thanks Craig):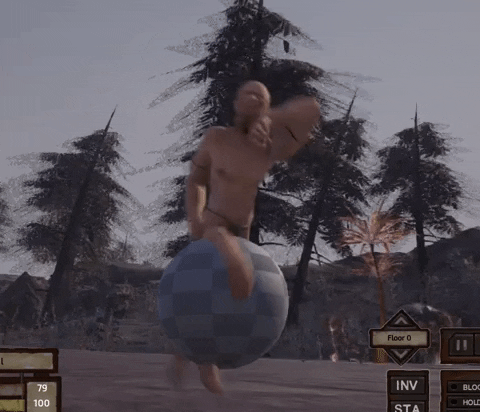 From Technical Artist Victor Goossens: "What was meant to be happening was literally that the guy was just supposed to be running somewhere, but some animations broke in a bind pose. To explain a bind pose: it's the thing that an animation is relative to. So if, for instance, an animation was animated with an A-pose as bind-pose, but then the bind-pose in engine is a T-pose (arms are higher), the arms will tilt up when playing that animation in-engine.
I think at that point in time half of our various reference poses (we use a cool blending system under the hood) were borked, so animations ended up being… Magical.
We also had people growing and shrinking vertically as they breathed because of this…"
Unscoring the World of Kenshi
Here's a little something we thought you might appreciate seeing. Originally recorded back in 2017 at GDC (remember events?) and posted yesterday: "Kole Hicks & Chris Hunt share the details behind crafting the music and sound for the gritty, unforgiving, and indifferent world of Kenshi."
Hello World, from Nat, Sarah and Dan
To attempt to prove that Kenshi isn't made by an evil artificial intelligence, we've recently been giving our team the chance to let their personalities shine with profiles in community updates. This update is no exception, so here's a few words from Nat, Sarah and Dan:
Natalie: Lead Narrative Designer
Hi, I'm Nat, and I've been with Lo-Fi for around 8 years now. Currently, I'm organising and writing base dialogue in and around our first Kenshi 2 faction, thinking up all the different ways we can troll y'all.
Life balance
Outside of work, I try to conserve my creative energy for Kenshi and not exhaust it on personal projects! So, because of that, my hobbies revolve more around physical stuff: weight training, calisthenics and pole. I just got over a 2 year back injury and lockdown has actually been quite useful for me to try and train back to where I was at before.
My hobby started all the way back when I was 20 years old. I jumped off a speedboat to swim in the sea, then found I didn't have the strength to pull myself back up onto the boat to get out! I had to be hauled back up like some kind of sack of dead fish. It was since that day that I vowed to be strong enough to pull my own bodyweight up onto a speedboat, should I ever jump off one again. Simple goals!
I also study writing and game design in my spare time, that includes playing games as case studies (lately I've been ahem 'studying' Last of Us and Ghost of Tsushima). I tend to write up the stuff I learn and think about on my blog I feel like it cements stuff for me. I often work on so many different aspects of the game, it could be another 2 years before I work on the same type of thing again; I don't want to have forgotten the important lessons I learned the first time around!
I also volunteer at a charity I feel very passionate about, One25, a support service for women on the streets. I make sandwiches and drive the outreach van on night shifts. At Christmas time we give out little goody bags, cakes and make sure women have warm clothes and hats. We meet some lovely women having some hard times, and the charity does a hell of a lot of good, I'm super proud to work for them.
Sarah, Studio Manager
Hi! I'm the Studio Manager for Lo-Fi Games. I came on board (lol) in April 2020 to help out with the ever-growing team we have in place for Kenshi 2. I am currently Working From Boat managing all things office/HR/finance/welfare/H&S/happiness from afar!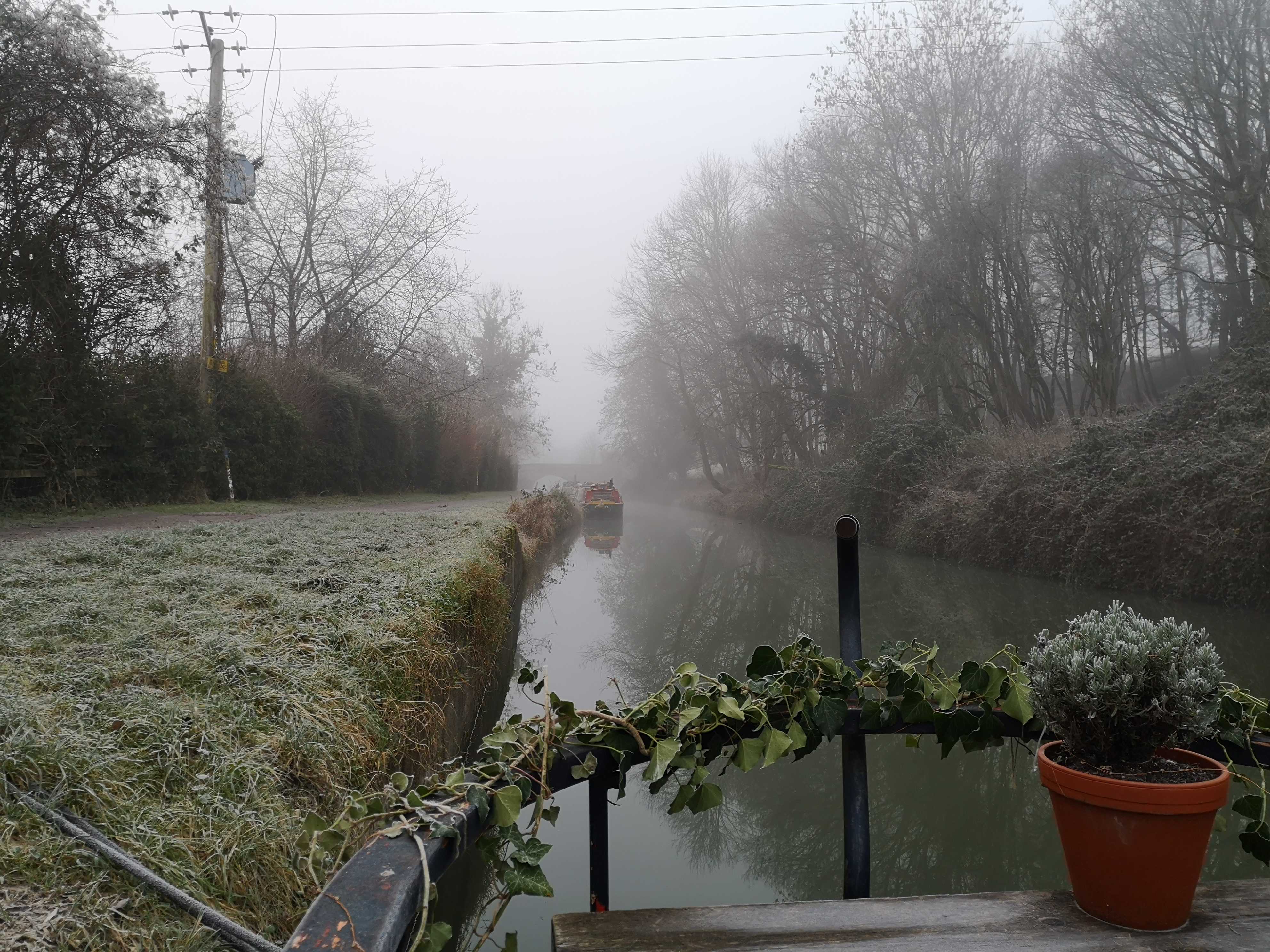 My day to day tasks are running all the things business related! Mostly keeping everyone communicating together, managing the finance and legal sides of the business, and making sure everyone is OK, especially while working from home. I have been given the secondary title 'Chief of Happiness'. The team sometimes struggle with not being able to work together in a creative environment so we put lots of things in place to try and make that better, including gaming nights, monthly catch up meetings and happiness packs sent to everyone including snacks and beers.
My background is in managing game studios, music festivals and event build sites around the world and I am now bringing that experience to Lo-Fi to help create an exciting and engaging studio environment for the team. Now we just need Covid to go away so we can all go in and enjoy it!
Home Setup
As I'm currently "working from boat" I thought I would show you my tiny 12v setup! I have a mobile WiFi router which (depending on where I moor up) is pretty good (around 300mbs). My teeny keyboard is still ergonomic so works surprisingly well! The setup is great for admin and the online stuff for my job but not for mega gaming unfortunately!
Life Balance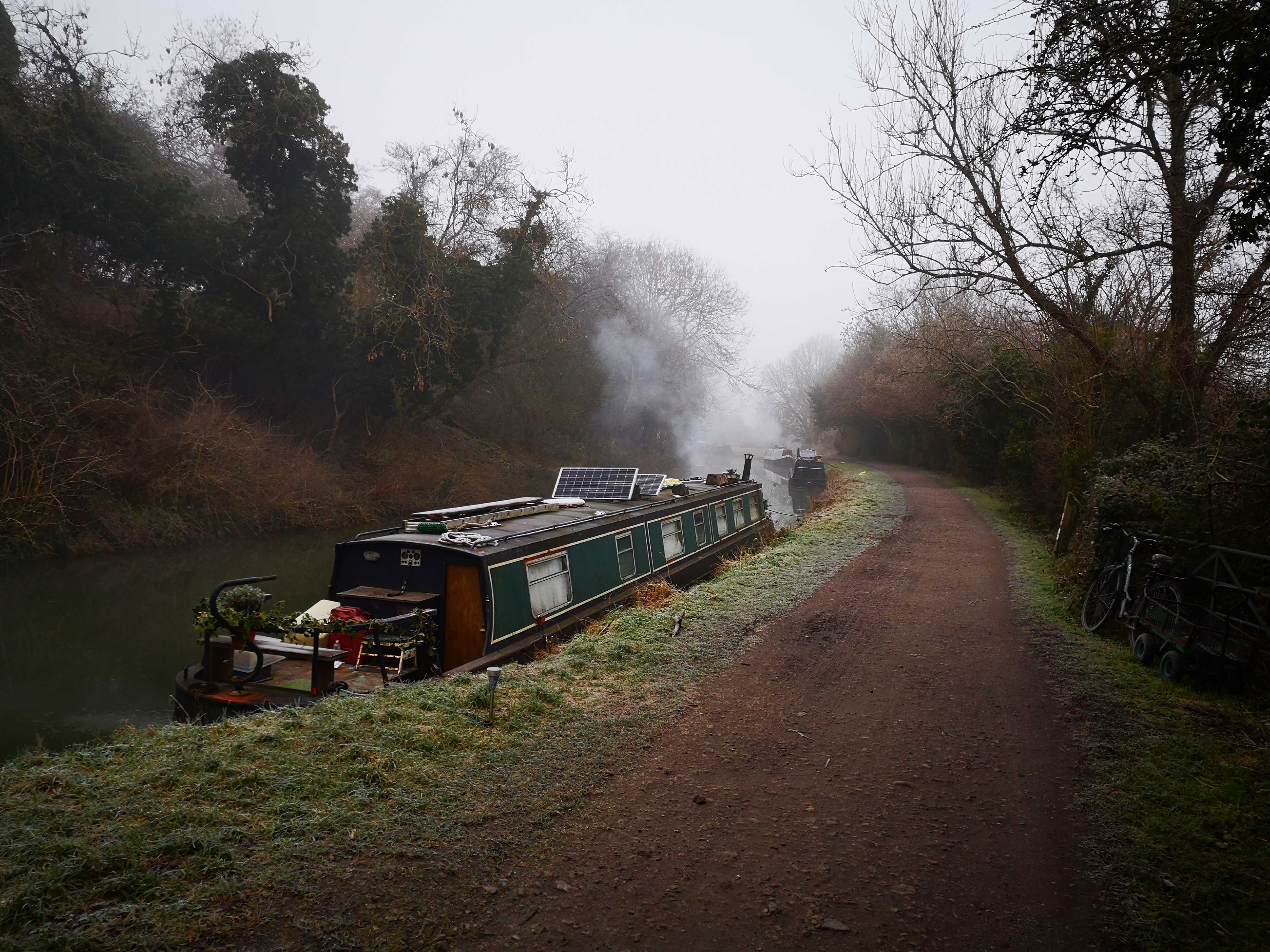 My boat is on a canal to the south of Bath and I travel up and down it enjoying the countryside life. It takes a lot of work to keep the engine and boat going but going for walks then coming back to a fire and cosy living space is awesome!
During the winter I've been getting together with some fellow boaties and we play a lot of card and board games, like Pandemic, Munchkin, Exploding Kittens, Code Names, Backgammon and Chess. It's a simple life but a beautiful one!
I also have a studio in Bristol where, alongside sketching and painting, I create interactive sculptures using a variety of materials and Arduinos. I love to see what happens when people interact with my designs. I usually design stuff that emulates natural phenomena such as bioluminescence in jellyfish or firing synapses in a brain. Sometimes these get featured in various festivals or National Trust gardens too!
Dan, Head of Marketing
This very update is being put together by a chap referring to himself in the third person by the name of Dan. He's the new Head of Marketing at Lo-Fi Games, responsible for being the mouthpiece of Kenshi across English-speaking social media channels. Dan can also be found lurking around reddit and the Kenshi Community Discord.
In a clumsy switcheroo I'll be changing perspective and referring to myself in the first person from hereon, which is actually how my mind works, usually.
Life balance
Music
I'm fairly obsessed with music and from time to time I do try to make a bit of it. You'd think lockdown would be the perfect time to do more of that but it's not always been an easy thing to focus on but I've not done much of late.
If you've any strange desire to find out a bit about what I listen to, have a look at my Bandcamp Collection and Wishlist here if you like.
Games
Lockdown has meant gaming for me: Persona 5, Cloudpunk, God of War, Horizon: Zero Dawn, Disco Elysium (so so good) and Ghost of Tsushima have been the games that have had me pretty absorbed.
A 2020 resolution was to finish more games. I can't really remember how well I did with my backlog but I did fiiiiiiiiinally get round to finishing Spec Ops: The Line, which if you've never played is a beautiful modern study on the absolute horrors of war.
I've a pretty keen interest in VR, having previously run a coworking space called Bristol VR Lab, and put on a conference by the name of VR World Congress. I don't really have the room for recommendations here but I do make them on the twitters quite often.
Board game-wise, I've been playing a lot of Codenames: Duet this year. Big recommend.
TV
I've watched a lot of telly of late but I think everyone has so I won't go on about that much, other than to insist you watch Giri / Haji, a beautifully shot story of crime, friendship and family drama based across London and Tokyo. Seriously, watch it, though be warned, it's not being renewed for a second season for some sad reason.
Home setup
In my office/studio I have a gaming PC with a 4K monitor, Fostex PM2 monitor speakers, a MicroKorg, the aforementioned Behringer TD3, an old Carillon MIDI controller I nicked from my friend and a little Akai LPD8. For console gaming and TV I have a PS4 with a 55" 4K HDR Sony Bravia and a Sony STR-DN 1080 7.2 amp and speakers that I recently bought and am loving. I also recently got myself an Oculus Quest 2 to add to my headset collection.
That's a Wrap
That's all for now folks. Stay safe out there, stay in touch, and don't forget to follow us on twitter and Facebook. If you'd like to get these updates straight to your inbox then sign up to our mailing list here.